Everything You Need to Know about Air Freight Service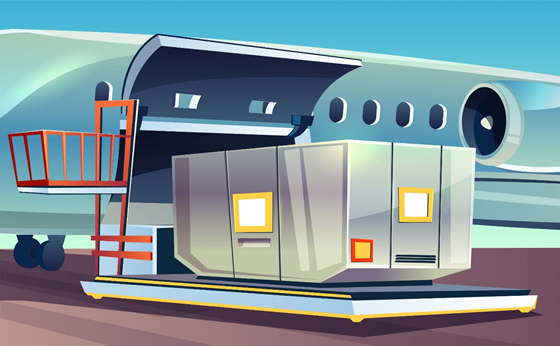 Air freight, as the name implies, is carrying commodities by aircraft. Today, air freight services are critical for many requirements since they are dependable, rapid, and highly secure. Air transport is unrivalled regarding safety precautions and is a model for perfection in almost all industries.
When valuable items must be moved between locations, safety, punctuality, or a mix of both are critical, and air freight services are simply the best alternative. Air freight significantly benefits transporting cargo from one country to another (International air freight service) or within the same country (Domestic air freight service).
Different Types of Air Freight Services –
There are several air freight carriers. Knowing what each of them does can help you choose one for shipping service.
Passenger Airlines
There are airlines that transport individuals from one location to another. Although they are created and intended to transport people, they will sell luggage space in the luggage compartment.
While most freight aeroplanes make many stops between hubs and do not fly directly, most passenger airlines fly point-to-point or with only one stop. This distinguishes the advantages of passenger airlines and improves revenue for airlines.
All-Cargo Carriers
These planes deliver many types of cargo but not humans. As a result, there are fewer constraints on the weight and size of shipments.
Express Air Freight Services
One of the most difficult aspects of air freight is getting the consignment to and from the airport. Integrated carriers come in very handy in this situation. These carriers will transport the shipment from the pickup location's door to the drop-off location's door.
These are the most prevalent kind of carriers, and they include UPS, FedEx, and DHL. These sorts of carriers rely on a hub system to carry shipments efficiently.
How do Air Freight Services Work?
During shipping, air freight forwarders often follow the stages listed below.
Booking the Shipment:
The supplier, or sender, book air shipment service to ship goods by air and deliver them to a single consignee in a specific and single location. The procedure begins with the products delivered to the service provider's facility.
Some international freight forwarders have alliances with various warehouse solution providers, while others have their own warehouses.
Customs Clearance:
This is a critical stage in international shipping. During this process, freight service providers check that the shipment is cleared to leave the country of origin. It necessitates the submission of a declaration – Electronic Export Information (EEI) – containing information about the cargo and other supporting documentation.
Customs laws and documentation are well-known to the companies providing international air freight shipment services. As a result, they make this entire process very smooth.
Unloading from Warehouses:
When the shipments gain clearance, your service provider unloads the products from the warehouse and coordinates transportation to the airport. Once the products are loaded into the aircraft's hold, they are the responsibility of the air freight company during transit and until they reach their destination.
Customs Clearance at Cargo Terminals:
When the plane touches down, the handling companies take over again, unloading the cargo and transporting it to the cargo terminal. When the products arrive at the shipping terminal, the handling agent compares them to the documentation.
Delivery:
The goods are transferred from the ship to land and from the port to the forwarder's destination warehouse throughout this process. Depending on the arrangement, this process is conducted by the freight forwarder or the local transportation agency designated by the consignee.
It also entails unpacking the container and preparing the goods for collection by the consignee. The shipment is then moved from the import warehouse to the consignee's address.
Top Benefits for Opting for Air Freight Services for your Next Urgent Delivery
Many businesses prefer air freight because it ensures that their goods arrive anywhere in the world where an aircraft can fly and land. Goods transported by air have the advantage of arriving at their destination quickly, which may be useful if the shipment is time sensitive.
You can choose the air freight shipments for the key reasons-
Speedy Deliveries:
This benefits both consumer happiness and the company's bottom line by ensuring that high-priced goods spend less time in transportation and allows you to see a return on your investment sooner.
Shipment Integrity and High Security:
Your goods are less vulnerable to damage and loss due to theft or misplacement if you spend less time in transit. It is usually preferable to send fragile things by airfreight because the damage is less likely than with sea freight.
Furthermore, air freight shipments have a higher level of security because a shipment transported by road on a truck makes several stops. The shipments on board become exposed during any of these stops. There are also fewer stops in air freight services because the plane goes nonstop from point A to point B.
More Efficient:
Air freight is fast, especially if you use a direct route. Goods can be expected to arrive at their destination within days of being sent, whereas sea or road freight can take several weeks.
Trackable:
It is significantly easier to track air freight due to the high level of security and the direct point-A to point-B nature of the transport. As planes are traced, cargo becomes more easily traceable, giving businesses more peace of mind.
Book Your Air Freight Shipments With On Point Express
Air freight is the best mode of transportation for shipments that must be delivered quickly. It is also the method with the highest level of security. Air freight services might be difficult to book, but On Point Express simplifies the procedure.
Whatever you wish to ship, On Point Express assures you that it will reach the destination on time. You can also use the On Point courier tracking number to trace your shipment.
Read More about Differences Between Domestic and International Shipping
Plan Your Shipments With Our Air Freight Services Now.