5 Key Differences Between Domestic and International Shipping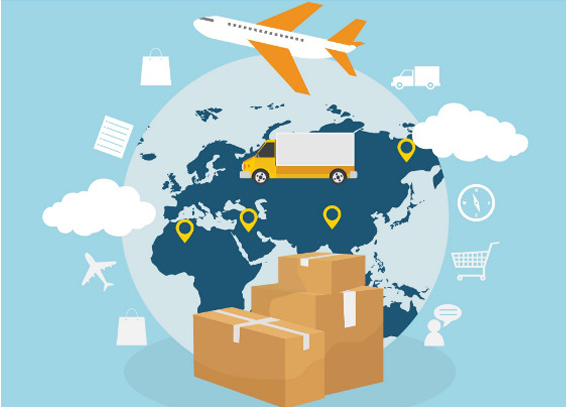 International Courier Services refers to exchanging goods and services between countries and across borders. Domestic shipping occurs when a business is performed within a country's borders. Although there are many distinctions between international and domestic shipping, the fundamental principles remain the same.
There are logistical difficulties, additional taxes, and paperwork associated with international shipping that should be considered when shipping domestically.
To better understand the key differences between domestic and international shipping, we have compiled 5 main factors in this blog. Let's dive in –
Differences Between Domestic & International Shipping
A. Basic Functioning
Domestic business refers to exchanging goods and parcels within the country's geographical boundaries. In this process, the economic transaction is conducted within a country. The sender and receiver party are both from the same country; hence the shipping agreement is based on the practices, laws and customs that are followed in the country.
On the other hand, International shipping is one in which exchanging goods takes place outside the home country's limits. All economic activity involves cross-border transactions.
B. Speed
Domestic shipping can be exceedingly speedy, and some courier firms even provide same-day delivery. Delivery options of two and three days are popular. In international shipping, two-day and three-day delivery periods are exceptional and frequently more expensive. Furthermore, while delays in domestic shipping are uncommon, international shipments can be held up for customs inspection at either the exporting or receiving country's borders.
C. Cost
One of the most significant differences is the price. Shipping globally is far more expensive than shipping domestically. This is true for a variety of reasons. One reason is lack of time. Businesses can lose money due to the time it takes to move goods across oceans. Border crossings can waste time, taxes must be paid, and customs checks can be time-consuming. Many of these issues, however, are being addressed by modern ocean and air freight shipping logistics and developments in the ocean and air freight transport.
D. Documentation
When shipping within the country, you normally only need to include a shipping label. You may occasionally pay to have items certified, traced, or handled carefully, but these services are optional. In most circumstances, export paperwork is mandatory. Except for mailing a single document, most shipments require papers such as commercial invoice that includes the cost and standardised code for each item in the shipment. With domestic courier tracking, you always stay informed about your shipments, regardless of your availed service.
International shipping is a complex process of moving freight over borders, accompanied by many rules and regulations. As international shipments occur between two countries, it has to follow different rules since every country has specific regulations and laws. You have to obtain and present all cargo information in the proper format.
Filling out the documents and supplying the necessary paperwork demonstrates to consumers that you are a prepared, dependable shipper. When your parcel reaches another country, the main and critical stage will be the customs clearance process. You have to rely on a customs broker who will help you with all the documentation processes of another country.
E. Custom Department Involvement
Every country has a location where packages and mail from other countries arrive, and each country has its own customs department. When shipping domestically, most packages travel to their destination, are delivered, and life goes on as usual. Customs departments are only involved when something is being exported internationally. Customs departments are in charge of collecting taxes on imports and exports. These taxes are often known as "duties" or "taxes and duties".
Read more about Domestic Courier Services to easily Post and Parcel
Final Thoughts
Carrying out international shipping activities and managing them is significantly more challenging than running domestic shipment activities. Most businesses and people find it challenging to grow their business globally or send something internationally due to changes in their respective country's laws, regulations, and economic and socio-cultural environments.
To be a successful player in the worldwide market, businesses must organise their business strategies according to the needs of the foreign market. With On Point Express, you will get easy solutions for this. On Point Express's global courier service offers a diverse range of global shipping alternatives via air, sea, or road transportation.
Along with punctual deliveries, we place a high value on the security of the consignments. To do this, our team members and global distribution network collaborate to ensure that the courier arrives at its destination safely and securely.
Also, Read about Documents Required for IEC code
Want to ship foreign? Get an International courier service quote today!