What Is International E-commerce Shipping – A Full Guide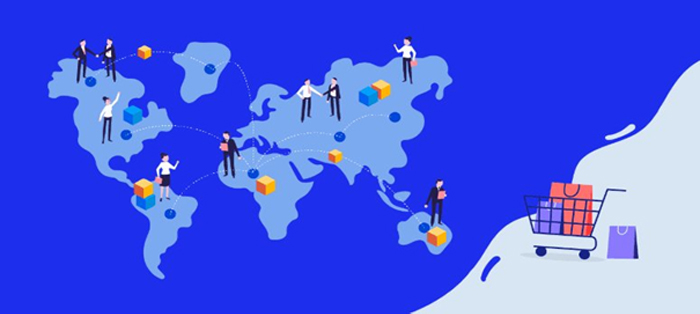 Expanding international is the most profitable choice for increasing your company's value. And in doing so, the biggest and primary challenge one can face is choosing the best international ecommerce shipping company and their charges. Likewise, some other difficulties one can experience while finding the best ecommerce shipping company are: To find out if there is a market for your good or service abroad, you must first conduct market research, after which you must adapt your business plan. The next steps are finding providers and becoming familiar with local rules and ordinances.
Finally, you must select a reputable courier company nearby which can ship products internatioally and guarantee prompt and efficient delivery straight to the receiver's doors. The consumer experience should be your main focus in the modern world. Thus, this stage is crucial. You must maintain your competitiveness while delivering internationally because many customers choose what is most convenient.
The ideas in this post will help you choose the best international courier service company for your ecommerce business. Apart from only focusing on international courier charges, it would be best if you also considered measuring other international courier service factors like online reviews, delivery time, customer support, remote area delivery and many more. Therefore, continue reading to learn more about the 5 tips for how to choose the best international ecommerce courier service company.
5 Tips for How to Choose the Best International Ecommerce Shipping
1. Company Reputation and Online Reviews
The first and foremost tip for choosing the best international courier service company is to check the company's history and look for its existing clients and online reviews, and company reputation. A good courier company will always have positive reviews and proper feedback or support for any negative customer experience.
2. Delivery Time and Tracking
Delivery time and tracking play an important role in international courier services. Good companies offer very fast delivery times (up to 5-7 days), while others provide slower shipping times (up to 30 days). Hence, always look for companies who offer Express or Rush Delivery with an online tracking option or shipment update SMS service to keep you updated regarding the live status.
3. Shipping Rates and Insurance
Another important thing to look for is the international courier charges and insurance. It will help if you compare the prices with other companies in terms of shipping rates per KG, as it can get very expensive for international shipping.
Moreover, check whether the company provides insurance or not, as international shipping is full of risks. Hence, insurance keeps you covered if your shipment gets lost during transit!
4. Customer Support
While choosing an international courier service company, it is important to check the company's customer support to resolve any concerns you have before finalising the service company. This will also help track the order if one cannot get a satisfactory result through the online tracking. It's better to be double sure of your mental satisfaction.
5. Delivery in Remote Areas
Last but not least, distribution to faraway international locations can help you grow your company. Here delivery in remote areas means that when you export goods internationally, you may send packages to customers who might live far from the city. So, always check for the companies that can ship the courier to rural areas, remote areas, or any location you need to send your package.
Moreover, to prevent dissatisfied customers, you must understand how choosing a third-party carrier to conduct last-mile deliveries in rural areas can impact service quality and package tracking.
Therefore, look for courier service companies with a big delivery network to help deliver goods in remote areas.
Final Thoughts
With the help of the 5 tips mentioned above, you can easily pick the best International courier service company that can effectively deliver your package in a comparatively short time with affordable international courier charges and insurance.
Likewise, one of the best International ecommerce courier services company is OnPoint Express with its headquarters in Jaipur. They also provide the safest method for sending and receiving packages internationally. They even offer flexible service options in addition to quick delivery, free packaging, simple slip writing, and a quick and effective approach to clearing customs are the hallmarks of our service. Furthermore, they also provide worldwide shipping, secure hand-to-hand fast transportation, goods insurance, online tracking and a 24/7 customer support team.
So, if you have decided to use international courier services, you must try OnPoint Express. They offer competitive prices to find the best value for money. Moreover, you'll find all the tips applicable in OnPoint Express, which provides the best international courier services for your business!