UPS Covid-19 Peak Surcharge
We are writing to you following our recent update on temporary measures resulting from the Novel Coronavirus. After careful consideration, in light of the increased demand for air cargo capacity and the increased costs to maintain service during this emergency situation, UPS has decided to implement a global temporary peak (capacity) surcharge.
From April 12, 2020 and until further notice, a temporary capacity surcharge will apply to shipments originating from India to anywhere in the world.
Specifically, the surcharge will only apply to the following services: UPS Worldwide Express Plus®, UPS Worldwide Express®, UPS Worldwide Express Saver®, UPS Worldwide Express Freight®, UPS Worldwide Express Freight® Midday and UPS Worldwide Expedited® shipments.
Peak Surcharges Imports
Applied to shipments from China Mainland or Hong Kong SAR to India[1]: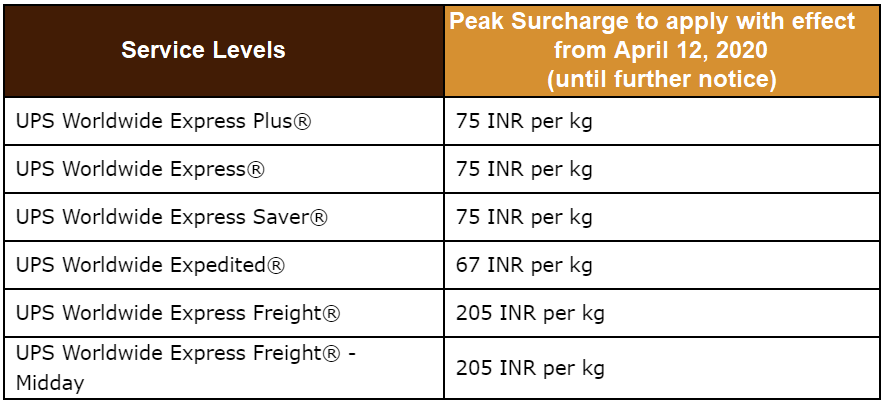 [1]In addition to existing rates, charges, surcharges and fees. The UPS Fuel Surcharge is calculated on the temporary peak surcharge.
Applied to international shipments from all origins (except China Mainland and Hong Kong SAR) to all destinations[2]:Exports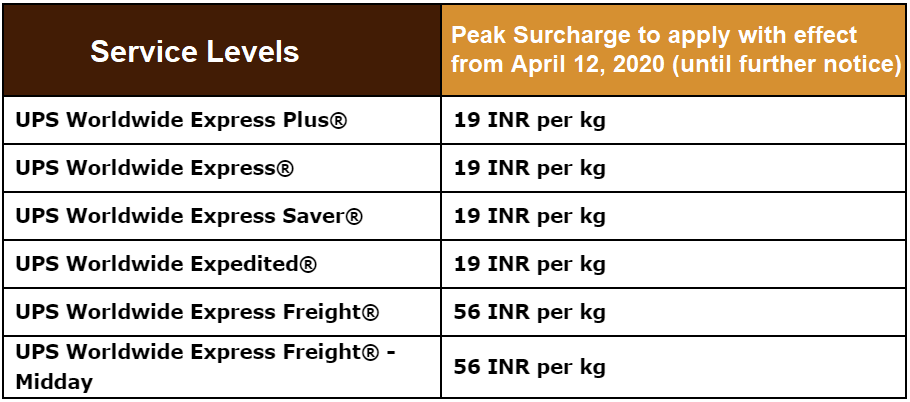 2 In addition to existing rates, charges, surcharges and fees. The UPS Fuel Surcharge is calculated also on the Temporary peak surcharge.
Please note that this is an evolving situation and the temporary capacity surcharge is subject to change due to the rapidly shifting market conditions. For the latest information on the global temporary capacity surcharge, please visit www.onpoint.in, reach out to your Executive or call us on +91-93145 11333.

Based on the essential sectors notified by the Government, UPS can undertake to support export and import of essential commodities across Health care, ITES, Banking and in Karnataka also Aerospace.

In these unprecedented times, the efficiency and flexibility of our network is of the utmost importance to keep supply chains moving. Our priority is to continue providing the best possible service to our customers during this period of uncertainty and manage rising cost to serve, and this surcharge allows us to do that.
Please reach us on +91-93145 11333 to know more about shipping with UPS