A Detailed Guide on International Shipping Packaging from India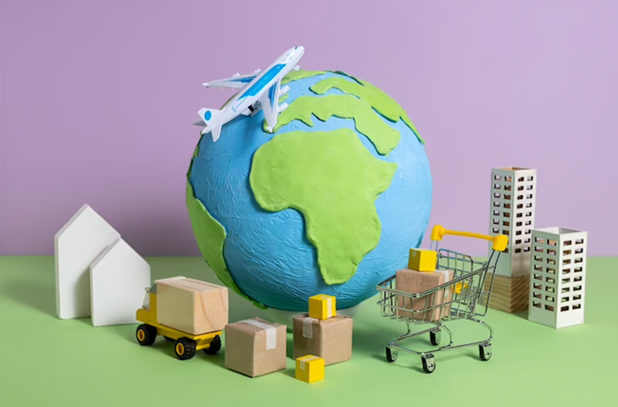 International shipping is known to be a process of transporting goods, products, or materials across borders to different countries or regions. It involves the transportation of goods through various modes of transportation such as sea, air, or land. The process of global courier shipping involves a number of steps, including obtaining the necessary permits and documents, packing the goods securely, arranging for transportation, and complying with customs regulations and procedures. Since there are so many laws and regulations involved, exporting internationally can be challenging. In international courier delivery, you must be aware of and adhere to certain paperwork requirements and rules in order to effectively import or export freight so that customs clearance goes smoothly.
Steps of International Shipping Packaging from India
On Point Express is the most authenticcourier companyfor transporting packages internationally to and from any place in the world. International shipping packagedelivery might take anywhere from two days to four weeks, depending on the weight and size of your product or freight as well as the shipping method. It is essential to note that the process of international shipping can be complex, and it is advised to work with a reliable freight forwarder who can handle all aspects of the shipment. The process of international shipping from India typically involves the following steps:
Export Haulage
International delivery makes up the first phase of transportation. Export haulage has to do with the transfer of cargo from the shipper to the forwarder's location. The freight is carried to the following warehouse, port, or facility, from which it will be sent to the border. The choice of haulage mode depends on various factors like the type of goods, the distance to the port of departure, and the urgency of delivery. Common modes of export haulage include trucks, rail, and barge.
Export Customs Clearance
It is a process that involves the preparation and submission of documentation to customs authorities in order to obtain permission for the export of goods. The customs clearance process is a crucial part of international trade as it ensures that goods are legally allowed to leave the country of origin and are in compliance with all relevant regulations and requirements. International packaging freight shipment should ensure that customs formalities must be completed for each shipment departing a country in order to satisfy legal obligations.
Origin Handling
It is a process ininternational shipping that refers to the activities involved in handling and preparing goods for export at the point of origin. From the time the cargo is received at the origin warehouse until it is loaded in a container on a ship, origin handling includes all physical handling and inspection of the goods. After receiving the cargo, it is checked (counted), planned for loading, combined with other cargo, crammed into a container, and transported to the port where it is loaded into a ship.
Transportation
It is a key component of the international shipping process, as it involves the movement of goods from one location to another, typically across borders or even across oceans. And the major source of cross border courier shipping is Air Freight Shipping. Once your shipment has successfully departed from its nation of origin, transportation will start. Depending on the route of transportation, the freight company, and the customer's request for expedited or ordinary shipment, this process might take a variety of times.
Import Customs Clearance
It is the process of preparing and submitting documentation to customs authorities in order to obtain permission for the import of goods into a country. In international shipping packaging, import customs clearance is a crucial step in the process and must be completed correctly to avoid delays, fines, or other penalties. The purpose of customs clearance is to protect a country's economy, security, and environment by controlling the importation of certain goods during cross-border shipping.
Import haulage
It is the transportation of goods or cargo from a port of entry, such as a seaport or airport, to a final destination within a country. This type of haulage is typically arranged by importers, who need to move their goods from the port of entry to a warehouse or distribution center. Your freight is transported from the border to its final location after successfully crossing the border of the importer country. The phrase "last-mile delivery" also applies to this technique.
Conclusion
When selecting the best international courier to handle your goods and deliveries, many factors must be taken into account. In order to provide your customers with the best experience possible, you must make an informed choice by weighing your options. Our courier company "On Point Express" provides the safest means of transporting your packages internationally to any location in the world. You can enjoy quick delivery times and flexible service options. The company provide both quick delivery times and flexible service options. Moreover, one can also find more offers on domestic and international courier shipping to enhance your courier delivery experience. Even services are distinguished by simple slip writing, free packaging, and a quick and effective approach to clearing customs.